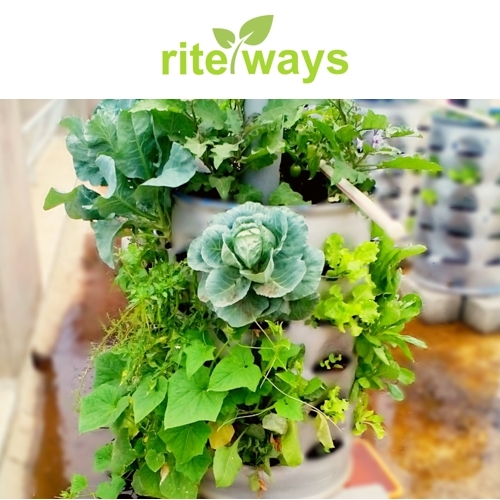 Product Description
veggyBARREL garden planters are unique garden pots that create a vertical garden with abundant supply. Now, grow tons of veggies on your roof with very little space requirement. In just 2 ft diameter, this veggyBARREL garden pot from riteways can grow 200+ plants.
veggyBARREL comes filled with unique growRITE terrace soil prepared from bio organic manure & compost. This organic fertilizer based medium delivers, tasty & highly nutritious vegetables that can be plucked and cooked directly, without having to refrigerate.
Features:
veggyBARREL is a unique vertical edible garden that mimics natural forest ecosystem, incorporates vermicomposting and permaculture.

Regular pot grows 1 plant per pot, veggyBARREL grows 200 with slighty bigger diameter.

veggyBARREL retains moisture and insulates plant roots enabling growing food in hot & cold climates.

veggyBARREL uses growRITE organic manure that produces in abundance.

Height enables gardeners to stand up or sit.

Benefits:
Healthy food full of nutrients.

Just four numbers veggyBARREL should be able to feed a typical family of six (Husband, wife, two kids and grand parents).

Uses very little water enables growing food on concrete surfaces like rooftops, sidewalks...

No need to refrigerate, harvest only the amount that needs to be cooked, eat fresh & delicious.

veggyBARREL is perfect for seniors and those with physical handicap.

Contact Us
304/5/B, Seetharam Industrial Estate, Outer Ring Road, Jalahalli, Bengaluru, Karnataka, 560013, India
Phone :+918061881429