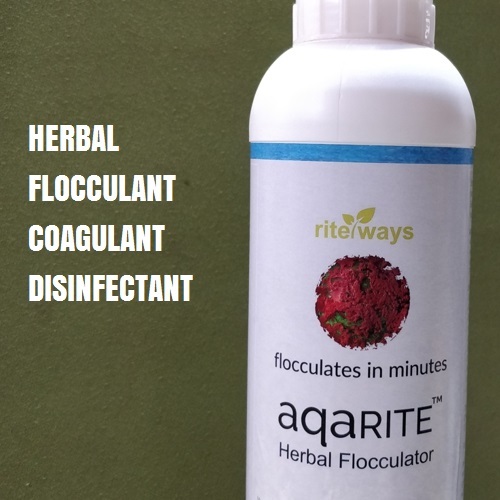 Product Description
Flocculates in minutes, aqaRITE is an excellent STP coagulant & bioflocculant, it also eliminates algae. Keeps the treated water crystal clear and fresh for a long time. Derived from herbal plants, it is 100% organic and safe even if swallowed.
In a typical sewage treatment process, the Pressurised Sand Filter (PSF) and the Activated Carbon Filter (ACF) get frequently choked if TSS (total suspended solids) is high, adding flocculants is benefecial. aqaRITE bio-flocculant helps in wastewater management, it not only keeps the sewage treatment plant in good running condition, but also saves time and money.
Adding aqaRITE clariflocculator at the pre feed/filter feed tank settles the suspended solids, thereby reducing load on filters.
Benefits:
- lowers operation cost
- lowers water consumption
- betters aesthetic performance
- increases system efficiency
Application Area:
- artificial ponds, fountains
- swimming pools
- cooling towers
- STP/ETP
Effluent & Sewage treatment plants in:
- Sugar & Distilleries
- Food processing industries
- Fruit & pulp processors
- Hotels & resorts
- Ice cream factories
- Fish farming & Aquaculture units
- Textile units
- Petrochemical industries
- Pharmaceutical units
- IT parks
Contact Us
304/5/B, Seetharam Industrial Estate, Outer Ring Road, Jalahalli, Bengaluru, Karnataka, 560013, India
Phone :+918061881429