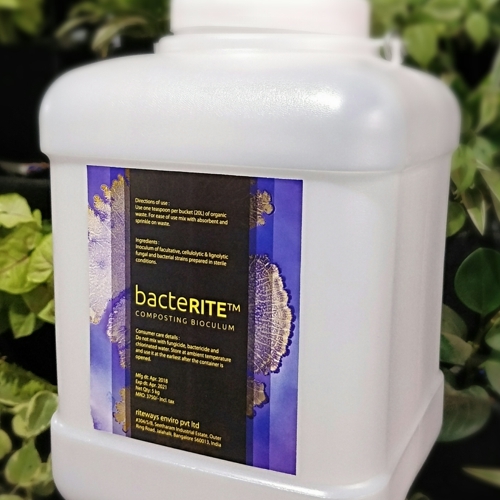 Product Description
bacteRITE Bioculam is a unique blend of Cellulolytic bacteria, Lignolytic bacteria, Fungi and Actinomycetes. Added to this are beneficial facultative micro-organisms that maintain aerobic conditions in the organic waste composter even when Oxygen is in short supply. The composting microbes in bacteRITE bioculture digest the pulverized organic material very quickly. Any organic waste converter that works with fine grinding can deliver quick results with its use.
Compost making becomes easier and the solid waste equipment delivers good results.ÂÂÂ
FEATURES:
- Fast breakdown of Lignin in solid waste treatment
- Fast breakdown of Cellulose
- Facultative microbes
- Actinomycetes present
- High CFU
BENEFITS:
- Digests garden waste and non-veg quickly
- Digests bakery and food waste quickly
- No foul odour
- Earthy smell
- Low dosage
White powder form, available in 5 Kg boxes.
Contact Us
304/5/B, Seetharam Industrial Estate, Outer Ring Road, Jalahalli, Bengaluru, Karnataka, 560013, India
Phone :+918061881429