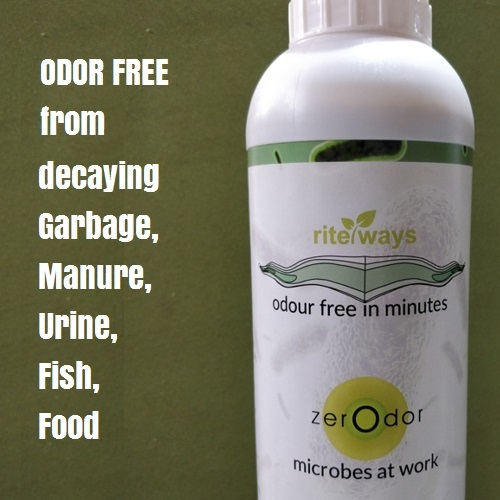 Product Description
Odour Eliminator for Garbage, Decaying, Manure & Compost
This odour freshener is made of beneficial micro-organisms that facilitate fermentation instead of putrefaction. Putrefaction releases foul odour (smelling like rotten egg) causing gases like Hydrogen Sulfide & Ammonia. zerOdor works as a highly efficient odour cleaner in decaying Garbage, Manure, Urine, Fish, Food type environments.
In garbage landfill sites use of zerOdor results in better leachate treatment, suspended dust (TSP). More than odour freshener, use of zerOdor reduces the volume of solid waste quickly. The compost processed from fermented garbage is supplemented with useful microorganisms, which make the compost highly beneficial for agricultural use.
Foul odour causing gases like Carbon Monoxide, Ammonia, Methane, Sulphur di oxide & Hydrogen Sulphide get excessivly produced in effluent & sewage treatment plants during power cuts or any STP/ETP shut downs. The microbes of zerOdor work their magic by releasing enzymes, antioxidants & amino acids in sewage treatment plants. Hence, during shut downs or power cuts, use of zerOdor can continue the wastewater treatment process with out any hassle of foul odour complaints.
Application Area:
- Places dealing with decaying Garbage, Manure, Urine, Fish, Food etc..
- Wastewater treatment plants
- Grease traps
- Animal waste from poultry, cattle, piggeries etc
- Garbage dumps
zerOdor is a very powerful & ecofriendly deodouriser for removing foul odours generated from decay. Any odour control systems working in these areas can perform much better with the use of zerOdor.
USERS:
- Sugar & Distilleries
- Fruit & pulp processors
- Hotels & resorts
- Milk, Dairy & Cheese processing plants
- Ice cream factories
- Fish farming & Aquaculture units
- Textile units
- Petrochemical industries
- Pharmaceutical units
- Oil drilling & refineries
- Municipal Solid Waste Management sites
- Landfills
- Slaughter Houses
- Poultry farms
- Food processing units
- Meat processing units
Contact Us
304/5/B, Seetharam Industrial Estate, Outer Ring Road, Jalahalli, Bengaluru, Karnataka, 560013, India
Phone :+918061881429